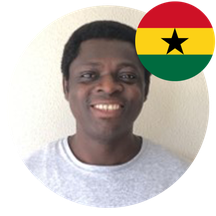 Mr. Sylvester Addai-Arhin
GHANA
PhD student
Environmental & Symbiotic Sciences Prefectural University of Kumamoto
I am studying Chemical hazard and my research topic is on Mercury Contamination in the Environment.
Reasons to Choose Japan & Desired Future Career Path
I chose to study in Japan because of availability of suitable academic supervisor, availability of resources for research, advancement in Science and Technology, political stability, exposure and so on. Especially in my case, I was very lucky to be selected as a scholar for 'Prefectural University of Kumamoto International Postgraduate Scholarship for Research on Mercury.'
Therefore my desired career in the near future is teaching and research, as I would like to pay it forward to younger generation.
Message for Prospective Students
As my message for prospective international students from Sub-saharan Africa to Japan, I believe that it is always better to come together as one and forge ahead for a common goal.