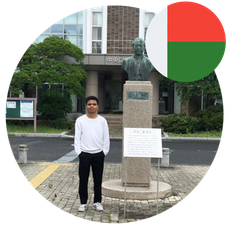 Mr. Ambinintsoa Urick
MADAGASCAR
Undergraduate student
Global Discovery Program 
Okayama University
I am currently following the Global Discovery Program focusing on Social Innovation and Entrepreneur. I am interested in finding a new way to promote entrepreneurship in Madagascar.   
One of the main reasons why I chose Japan is because of the possibility to complete my undergraduate studies entirely in English and learning Japanese at the same time. This is a huge opportunity for international students who are planning to work and live in Japan or those who just want to make Japanese friends during university life.
Japan is one of the best options as a destination country to study for students as Japan has low tuition fees compared to some countries and plenty of generous scholarships open to international students. Japan is also one of the safest countries in the world, I once forgot my phone at my part-time job place and got it back the next day. Therefore, if you want to study abroad with a convenient environment for students, why not choose Japan.
*******
He is one of successful recipients of Ashinaga Africa Initiative https://en.ashinaga.org/
Okayama University- https://www.facebook.com/discovery.at.ou/