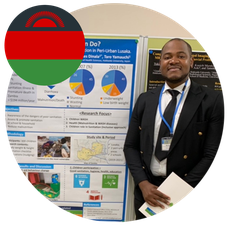 Mr. Hermes Dinala
MALAWI
Master's student
Faculty of Health Sciences 
Hokkaido University
My primary research interest lies in the role of children and the youth in Sanitation and Hygiene, and primary school sanitation systems in sub-Saharan Africa, especially with diarrheal diseases being the second leading cause of infant and child mortality, and leading cause of malnutrition in children. As an action research with a field site in Zambia, the main aim is to raise awareness and behavior change to empower children and the youth as change agents through assessment of the challenges, applying suitable and practical intervention strategies and tracking progress to ensure sustainable behavior change and practice prevail.
I chose a Japanese University because of the high educational standards supported by quality, advanced technology, good supporting staff at Japanese universities. Japan is a very safe and peaceful country and the people's kindness makes it a very conducive environment for research and living. Several recommendations from family and friends also cemented my choice. I plan to proceed as a health researcher in the future.
The opportunity to experience Japan's unique and rich cultural heritage is exceptional. The language, shrines, temples, museums, communal bathing at a hot spring and many festivals around the year highlight the unique history and culture of the people. As students we need to understand the culture and share our culture as well. This environment provides a good platform for cultural exchange and creation of long-lasting networking and collaborations.