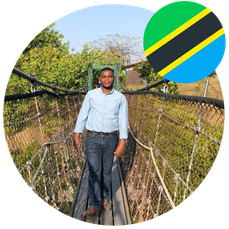 Mr. Kimario Deodath
TANZANIA
Master's student
Graduate School of Global Environmental Studies
Sophia University
"Studying in Japan supports my future career and vision"
I am a Master's student in Global Environmental Studies. My thesis is based on how to achieve environmentally-friendly roads (sustainable roads) in Tanzania. I will study current practices for establishing new roads in Tanzania and come out with the suggestion on how to minimize impacts associated with roads to the ecosystem and human life as a whole. My vision is for Tanzania to have roads that are in harmony with nature.
I chose to study in Japan because I was inspired by friends who studied in Japan before. Japanese working culture which is unique in the world is what inspired me much. My future carrier path is to specialize in infrastructure project management in terms of environment and sustainability
Studying in Japan can not only make you better in your carrier but can even change your working behavior. The education system is so interactive in a way that you get a chance to see what is happening in the industry through being connected with the companies that are practicing what you are studying.