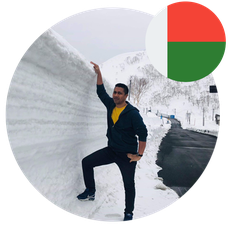 Mr. Mamy Rija ANDRIAMBOAVONJY
MADAGASCAR
PhD student
Division of Field Engineering for the Environment - River and Watershed Engineering
Faculty of Engineering 
Hokkaido University
My study is about river engineering, dealing with hydrodynamics, sediment transport and deposition, and erosion in river channels. In sum, it is about river channels evolution. I finished Master's program in Sept. 2019, and currently, I do research in riverbed erosion in curved channels. 
I chose Japan for three main reasons: Japan is worldwide well-known for its high technology, Japanese river engineering is advanced and effective despite typhoons and other related problems, and Japan provides high educational standards. So, in 2017, I applied for and was awarded the MEXT (the Ministry of Education, Culture, Sports, and Technology-Japan) Scholarship - Embassy Recommendation. Apart from that, since my childhood, I have had deep interest in and been fascinated with Japanese culture, starting with Japanese martial arts, Budo(武道). 
I would like to work in river related industry (for practical reasons) and pass on the knowledge I would have acquired to the next generation as a lecturer.
My message for you is "Have dreams, plan them well and work on them regularly and consistently." Just start! For that, study is one of the best ways, Japan is one of the best places, combining all of that with you = you will be better and will be the best of the best. 
Personally, Japan is not only a place for study, it has also become the place where I can fully enjoy life. Japan is amazing, come and see!
*******