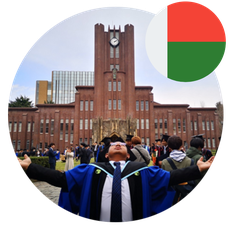 Mr. Ramahaimandimby Sandratra Zoniaina
MADAGASCAR
PhD Student
Agricultural Economics 
The University of Tokyo
-Ganbatte!!!(Do your best!!!)-
I am majoring in Agricultural Economics, specialized in Rural Development and Finance. My research focuses on the vegetable production and its impact on smallholder farmers' livelihoods, especially on their welfare and nutritional well-being.
Several reasons have pushed me to choose Japan as my first destination. Among others, I am attracted by the high educational standards of Japanese universities. Also, I enjoy discovering Japan's rich cultural heritage, and experiencing life in one of the world's most safest and advanced countries. After my graduation, I want to be involved in a research institute and work for an international organization to help alleviating poverty and reducing malnutrition in developing countries.
Here are some advices for prospective students who want to fully enjoy their stay in Japan while succeeding in their academic journey. Be ready to work as independently as possible on your research subject; Stress and anxiety will be intermixed throughout the academic life, hence, fix some time to rest; Having a basic level of Japanese language is of a considerable importance; above all, do everything for the glory of God alone.
Ganbatte!!!(Do your best!!!)
*******
The University of Tokyo- https://www.facebook.com/UTokyo.News.en