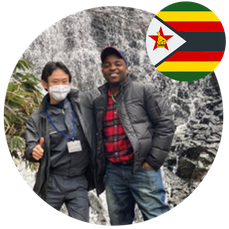 Mr. Sharrydon Bright
ZIMBABWE
Master's student
Sustainable Resources Engineering 
Hokkaido University
"Studying in Japan-A valuable juncture in my career development"
In recent years there has been an increasing call for sustainable and safer mineral processing technologies and the gold industry has not been spared. My research answers that call by investigating how we can eliminate the conventional use of toxic chemicals such as cyanide by using a safer eco-friendly lixiviant in the form of ammonium thiosulfate. Recovery of gold ions from thiosulfate solutions using aluminum and activated carbon is a novel technique that promises to transform gold processing in a non-conventional environmentally friendly manner. The research is now a collaboration between three universities; Hokkaido University (Japan), UNSW and Curtin University (both in Australia).  
Recently I had the opportunity of participating in the 2020 International Forum-Contest of students and young scientists "Topical Issues of Rational Use of Natural Resources" hosted by St Petersburg Mining University of Russia. Because of the Covid-19 Corona Virus, many local and international conferences have been cancelled and this online conference was a great experience interacting with researchers and professors from all over the world. I was also elated to be nominated as one of the best speakers for the conference and received a certificate. 
The choice of studying in Japan was mainly driven by the technological expertise of the country and how Japan's rich history shows an ideal transformation from heavy mining to heavy manufacturing by pursuing value addition and beneficiation of raw mineral products which I believe is the path for economic development of resource rich countries. The well equipped research facilities and the amazing student support framework also aided in choosing Japan. As for the future, involvement in promotion of green (safe) mineral processing technologies and strategical advancement of the mineral value chain is the desired career path I wish to pursue. 
For prospective students: Japan is a target country for many scholars and researchers as evident by the presence of a vast number of international students (not only Africans). Therefore furthering studies in Japan definitely gives a unique focused global view where one can easily tap into positive aspects from different professions, experiences, cultures, ethics and of course networking.