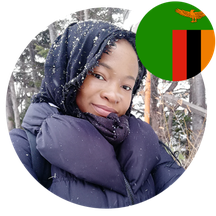 Mrs. Joy Chitupa
ZAMBIA
Master's student
Graduate School of Health sciences 
Hokkaido University 
"Japan's advanced knowledge and technology investigating WASH in line with COVID-19"
I am pursuing a masters degree in Health Sciences. My research is focused on Water, Sanitation and Hygiene-WASH studies in line with the SDGs number 6. I am particularly interested in Menstrual Hygiene Management and now having interests in investigating WASH in line with the COVID-19 pandemic. I will study the effects of WASH on hygiene and health. My goal is to make interventions and substantial interventions in WASH, especially in Developing countries of Asia and Africa.
I chose to study in Japan because of the advanced knowledge, technology and great repute of Hokkaido University, an institution that provides a vital public service and leads the industry into innovative products. My desired future career plan is to be an expert researcher and lecturer in Social Health Sciences.
Japan offers you opportunities to learn advanced  global knowledge and positively impact the world in cutting edge research and making tangible networks with people from all over the world, while appreciating its diverse culture and work ethics.  It also allows you to personally grow into a self-sufficient leadership role, develop sustainable life skills and the desire to solve problems in local communities as well as internationally.