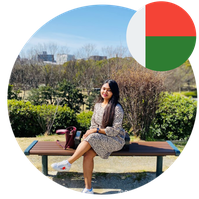 Ms. Andriamisaharimanana Anjatiana Lucia Volan 
MADAGASCAR
PhD Student
Department of Civil and Structural Engineering
Faculty of Engineering
Kyushu University
I am majoring in Civil and Structural Engineering, researching on improving the durability of concrete structures, mainly focusing on the prevention, monitoring and treatment of chloride induced corrosion of reinforcing steel in concrete using electro-chemical approaches. 
Japan has always been on my top list with respect to studying abroad… as I have been fascinated by their development in terms of infrastructures and technology despites the frequent severe natural disasters occurring in the country.  Like many students, I am also amazed by its matchless nature, its special and kind people and the safety of the country….
Wider opportunities have been opened to international students with the possibility of pursuing high standard education fully in English. 
Of course the challenges are not few. It is, however, worth the efforts. So, Yes… I would definitely recommend Japan to all African students interested in overseas study.
Faculty of Engineering
https://www.eng.kyushu-u.ac.jp/e/g_international.html – Kyushu University