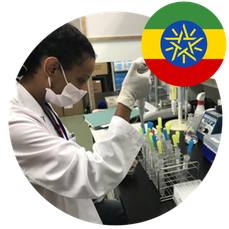 Ms. Rahel Mesfin
ETHIOPIA
PhD student
Graduate School of Health Sciences
Hokkaido University
Currently, I am a 2nd year PhD student, my research focuses on bio-monitoring environmental chemicals called phthalates which are used in plastics or PVC materials and assess their impacts on human health, particularly in children. Thus, the purpose of my study is to investigate the exposure extent of these chemicals and their effect on the development of childhood asthma and allergies. This will assist in the framework of advocating and designing mitigation strategies to prevent public health risks.
There are many good reasons to study in Japan. Few of the many reasons are:
The high educational standards with global reputation for excellence and innovation, and

Broadening of my horizons and experience with a new culture.
After graduation, I have a desire to pursue international jobs and go back to my country and share the knowledge I acquire in the school and work place.
My message to prospective students in Japan is that studying abroad and choosing Japan will offer you a great opportunity to prosper and thrive both academically and personally. For instance, Hokkaido university provided me opportunities to attend domestic and international conferences where I could discuss my research with researchers and professors from all over the world, and consequently create international collaborations.
In addition, Japan is home for amazing natural terrain with fascinating different way of life. The student's diversity in Japanese universities will provide you tremendous multi-cultural exchanges beyond academic knowledge to future collaborations.
Hokkaido University- https://www.hs.hokudai.ac.jp/e/