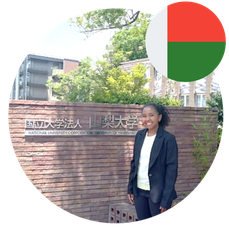 Ms. RAKOTOARIMANANA Zy Harifidy
MADAGASCAR
Master's Student
Integrated Graduate School of Medicine, Engineering, and Agricultural Sciences
 University of Yamanashi
I am now pursuing my Master course in Special Educational Program on River Basin Environmental Science (ICRE) at the University of Yamanashi, Department of Engineering. My interest in this program is therefore related to my ambition to be able to respond fully to the expectations of the Malagasy people as well as to other direct and indirect actors (decision-makers, state structures, and organizations) involved in the WASH sector.
My current research focuses on the integrated water resources management towards sustainable development facing the climate change of major river basins in Madagascar. I will study the availability and the potentiality of Water Resources (surface and groundwater) for the major basins and the future Water demand. After studying how much pressure each river basin can undergo towards the climate change and the population growth, I will identify the best available technology (BAT) used in Japan and its potential adaptation in Madagascar. This research will contribute to a better management of the water resources and help to solve problems at the local, regional as well as national river basins.
Before I came to Japan, I got my Master degree of Water Science and Technics Engineering in 2016 at the University of Antananarivo, Madagascar. I have had some professional experience through NGOs and internships at national and international level, which has enhanced my understanding of environmental and water resources engineering. I got a scholarship from the Japan International Cooperation Agency (JICA) called a Master's Degree and Internship Program of African Business Education Initiative for Youth. What distinguishes this scholarship to other scholarships given around the world is that not only African students can pursue further their study at a Japanese University but also can do an internship at a Japanese company. Students will learn from renowned International professors with strong research proposals, who have extensive industrial and consultancy experience with government agencies, businesses and NGOs. Moreover, understanding how the Japanese companies work would help youth sharpen their professional skills and enable them to contribute to the development of industries in Africa. The ABE Initiative program encourages young African leaders to develop academically and professionally, to build lasting networks and positive relationships with Japan.
The reason why I choose to study in the Japan are the academic flexibility, the research and training opportunities, the use of technology, the Japanese culture and campus life. In addition, the Japanese University provides help and support to International students such as outstanding extracurricular opportunities, including a host of clubs, volunteering groups, sporting activities and community. Those activities will help international students improve their communication skills and their personal development. Students graduated from the Japanese University have the opportunity to work for government agencies, both in Japan and overseas. Becoming a young woman leader in the Water, Sanitation and Hygiene (WASH) sector is my passion. I would like to create my own NGO working about supplying drinking water and watershed management in my hometown with the collaboration of Japanese companies.
I would recommend to African students to choose Japan, which provides great facilities, employs notable faculty, and possesses a distinguished reputation. Studying at Japanese University would give you the opportunity to enrich and diversify your skills and to forge strong international professional contact networks. Japan is the next step in the pursuit of your dream and enable you to contribute to the social and economic development of your country. DREAM BIG AND DARE TO FAIL.