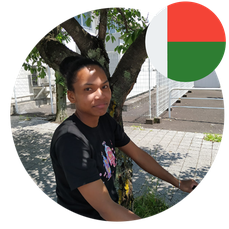 Ms. RATRIMOHARILALA Elisoa Andry
MADAGASCAR
Master's student
Program in International and Advanced Japanese Studies 
University of Tsukuba
Currently, I am studying about the Japanese Education and my research is actually focused on the cognitive process of speaking of the Malagasy Learners of Japanese Language. The ultimate goal is to identify or precisely to understand their processes of speaking  so that we can ameliorate and enhance the communication skills of Malagasy learners of Japanese.
Having a strong interest in Japanese culture, I have always dreamt of becoming a Japanese teacher. For instance, I got particularly interested in the fact that Japanese culture is still prevailing so as to reveal the country's identity despite globalization. Therefore, Japan is the best choice for me to deepen my knowledge about the language itself as well as its culture. Since the Japanese education's department in my country is only up to bachelor degree, for my career path, I have to pursue my upper studies in Japan. And in the future, I would like to work as a Japanese language and linguistics lecturer at the Malagasy Public University in my home country.
For those who intend to study abroad, I would recommend Japan for its strong care and support for the international students. Japan also has lots of high educational standards universities with several academic disciplines. Without mentioning its beauty, studying in Japan is also a good opportunity to practice and improve your speaking skills and to know more about its lifestyle including culture and history.
********
University of Tsukuba- https://www.facebook.com/tsukubajapan/