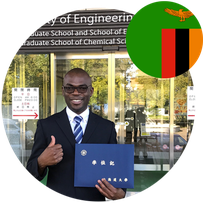 Dr. Mwandira Wilson
ZAMBIA
PhD of Engineering 
Hokkaido University
Engineering has been my favourite hobby since my childhood. Back then, I was fascinated by the way things works. Zambia is in Central Africa and is on a path to develop while taking into consideration care for sustainability when developing. Based on this motivation, I have been determined to pursue my career in the field of sustainable Engineering. A PhD degree in Sustainable Resources Engineering is thus a logical pathway towards my aim in Japan to be part of developing my country.
Currently I am running my own consultancy firm in environmental consultancy in Zambia that does work across Southern Africa. Additionally, I work as a researcher and part time lecturer at a private university in Zambia. My career goal is to contribute positively to sustainable development. 
The well-equipped infrastructure and support for graduate students are excellent. As a student you be able to have access to a range of experimental equipment and courses created to support your career goals. Additionally, with a strong support system for international students you be able to capitalize on the opportunities available to succeed at a Japanese Universities.