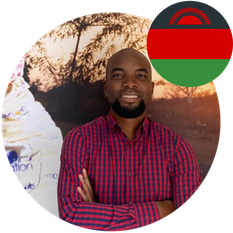 Mr. MTENJE Tom
MALAWI
MA, Economics
Working at CARE International, Lilongwe, MALAWI
Study in Japan - develop your career, experience life and prepare to change the world!
Study & Research
I enrolled in the Joint Japan World Bank Graduate Scholarship Program sponsored Program in Economic and Public Policy (PEPP) at the University of Tsukuba specializing in Development Economics.  The PEPP is delivered by accomplished development researchers and practitioners with global experience and draws students from Asia, Africa, Europe Latin America and the Pacific. Learning is through a mix of classroom instruction, independent research and field trips in Japan and abroad – I had the privilege to also visit Singapore, Vietnam and Cambodia on learning visits. I graduated with a Master of Arts Degree in Economics. My research topics looked at mechanisms that explain the impacts of maternal nutrition on educational outcomes in Malawi.
Career Path & Current Job 
Currently, I work with CARE International in Malawi on a National Resilience Project. Prior to that I worked for GIZ(=German International Cooperation Society) on a Social Protection Program which I joined after graduation. Before going to Japan I had worked for a local consumer rights advocacy organization, Japan International Cooperation Agency(JICA) and the Department of Economic Planning and Development of the Government of Malawi in the fields of consumer rights, development assistance and social protection respectively.
Message for Prospective Students 
Education from Japan gives you the necessary skills to perform on the international stage. It is more than just an academic opportunity. I got to know an amazing culture with hardworking but friendly and courteous people, experienced many magnificent things both modern and ancient. And very importantly I made lifelong friendships and developed professional networks from around the world.