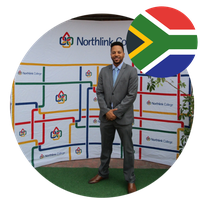 Mr. Tich Mbiri
SOUTH AFRICA
Master of Business Administration
International Business
Rikkyo University
"Study on different cultures opened up my different ways to success as a bridging person"
In Japan, I Studied into Japanese commerce and industry practices on topics like horizontal and vertical Keiretsu; which is a style of manufacturing and financial collaboration between manufacturers and suppliers. The Kaizen continuous improvement process and other business practices in marketing and strategy. Japanese language & culture courses were also part of the research for the course.
Rikkyo University https://english.rikkyo.ac.jp/ 
Master in International Business Degree (MIB) https://rikkyo-mib.jp/
I chose to study in Japan because I had an interest in Japan and it is a good access point to Asia. My desired career path is the continued facilitation of business between South Africa and Japan, there are many products and ways to collaborate that are very beneficial for both countries.
Toward my goal, currently, I am providing capacity development of TVET(artisan) colleges, assisting the Centre of Specialization of Fitter and Turner in the Western Cape with Japan International Cooperation Agency(JICA) support in Training of Trainers, Sub-training material, Work placement and Employment support. As my message for prospective international students in Japan, please keep applying it may take multiple tries but keep studying Japanese language and culture.
Stay open to different ways to succeed.