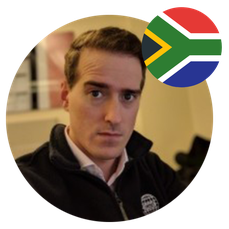 Mr. Timo Smuts
SOUTH AFRICA
Bachelor of International Law
University of Tsukuba
I studied International Law in Tsukuba after doing the Japanese language year in Osaka. I've subsequently gotten my Master's degree from Christ's College - Cambridge. 
I worked in investment banking in Japan for 2 years after graduation, and also helped out with a lot of projects at the South African embassy in Tokyo on a part-time basis. I then got a job working in investment management in Bermuda, where I have now been for 8 years.
I wouldn't be where I am today without the opportunity the Japanese government gave me. Going to learn in Japan is, like a lot of life, what you make of it. If you really immerse yourself and focus on becoming fluent in the language, that will not only allow you to freely access all the excellent professors and their classes at campus, but will also open your social circle and provide you skill you will have for the rest of your life. The early days are tough, but define a clear goal for after Uni and you will succeed.