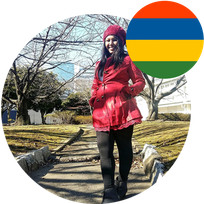 Ms. Nawshin MAHADOOA
MAURITIUS
Masters in Marine Science in the course of Marine Policy and Management
Tokyo University of Marine Science and Technology
Working at Economic Development Board, Port Louis, Mauritius
I studied Marine Policy and Management at TUMSAT https://www.kaiyodai.ac.jp/graduateschool/ which has world class facilities for Marine Sciences and Marine Policy studies. Through the interactive lectures and seminars by eminent professors, I have gained incredible knowledge about Marine Trade, Peace and Security, International Laws of the Sea, Sustainable Development Goals, and Marine Environmental Policy amongst others. The university has a big number of foreign students coming from all over the world for their master's degree or exchange programs. My research was related to conflict resolution of the natural resources utilization in the coastal areas of Mauritius. I learned about the dynamism of the coastal areas in supporting coastal livelihood, environmental ecosystem, tourism industry, and the fisheries industry and studied various mechanisms for conflict resolutions.
I was awarded the ABE Initiative Scholarship in 2016 and I resumed my position at the Economic Development Board after completing the masters degree and an internship at one of the leading consultancy firm in Japan. I am now involved in activities to promote trade and investment in new industries which also covers technology and innovation happening in the development of the marine and maritime industry. I am also the country manager for Kakehashi Africa https://www.facebook.com/kakehashiafrica/ - an NGO established to bridge Japan and Mauritius through ABE-Initiatives scholars.
I would recommend anyone who wants to experience the profound meaning of societies to consider Japan for their life education. The Japanese culture, in itself, is a kind of religion that enshrines respect, modesty, politeness, cleanliness and most importantly the culture of never giving up. Whether you will be in Tokyo or in Kyoto, you will experience the art of living through all the four seasons that come with their own set of colors and flavors.