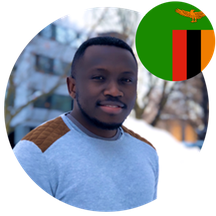 Mr. Walubita Mufalo
ZAMBIA
PhD Student
Faculty of Engineering, Laboratory of Groundwater and Mass transport-Sustainable Resources Engineering
Hokkaido University
My research is focused on the leaching behavior of soils in Kabwe town, Zambia. The emphasis is on mixing composition of heavy metals with community soils by aerosol deposition from abandoned old mine. In addition to that my research also includes land cover /land use from the time the old mine was decommissioned and find appropriate remediation strategies for affected soils. My ultimate goal is to help the communities of Kabwe to understand environmental issues affecting them in order to safe-guard their health as well as the environment.
Japan is a well-developed country with mega-busy cities that thrives on electronics and efficiency, but has an almost sacred appreciation of nature, which is amazing and that's why I chose Japan. I also feel that the knowledge and experience from Japanese work /Education will take me to the next level in my career! My future career path is to continue doing research in areas such as Geo-Environment and Groundwater related issues.
I have had the opportunity to study abroad, through collaboration with various researchers; I got the opportunity to study in Japan. Thus, experiencing other cultures, education and work ethics helps improve your career development and understand how different people work. It also gives you the opportunity to grow as a person and improve on critical thinking.