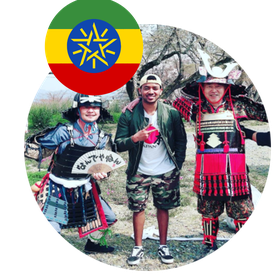 Mr. GEBRESLASSIE Amanuel Tesfay,
(Ethiopia)
Masters Course,
Environmental Engineering,
Okayama University
My research theme is "Effects of physical and microbial factors on co-composting of the mixed biomass waste and the hydrolysis sludge of methane fermentation."
Studying in the field of solid waste management in Okayama university has been a blessing  in terms of carrier development and gaining some solid understanding on my study area. The department has been engaged in research and development that can transform the community for a quarter of a century now and the working environment has been very pleasant so far inspiring me to continue studying PhD program.
Why did I choose to study in Japan? The main reason is that Japan is advanced in science and technology, design and innovation. The years of deep expertise, countless numbers of breakthroughs and innovations  and state-of-the-art technological advancements in my field area has seduced me to study in Japan. My love for the Japanese culture, history and language has also a lot of contribution into my decision. My desired future career path is to study PhD in Environmental engineering and possibly work in Japan. 
Dear prospective students, my message to you is to study hard in your fields, learn Japanese language (at least the basics), prepare for the culture shook, and it goes without saying that respect for authorities ( i.e. professors, colleagues and the law itself )and mastering effective time management are very necessary. Japan is a beautiful place to visit, so please don't hesitate to enjoy the tourist attraction places such as Tokyo, Kyoto city, Hiroshima peace memorial park and many more. Wish you have a great year ahead! (Happy Ethiopian new years everybody!)