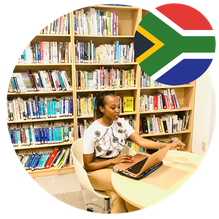 Ms. Mabaleng Kgaphola
SOUTH AFRICA
Master's student 
Kobe Institute of Computing
I  am pursuing Masters Degree in Information Systems. My Research focuses on Bridging the Digital Divide: Developing Self Learnable material for basic computer Literacy for Children in Rural South Africa(Limpopo Province).
I have lived in Japan before, I worked as an Assistant language Assistant in Kyushu Prefecture, During my stay I noticed how an ICT enabled environment and country allows for children to be more advanced than those in poorer countries and environments. That sparked curiosity in me to see how collaboration and research can help children in rural South Africa to also catch up to their peers in developed countries.
KIC is the ideal institution if you are looking to contribute to the developing world through the use of ICT tools.