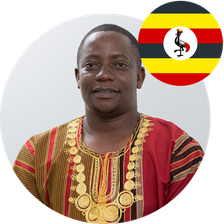 Mr. Tonnie Kasujja
UGANDA
Masters in Sport and Olympic Studies
Tsukuba International Academy of Sports
University of Tsukuba
I obtained Masters in Sport and Olympic Studies in Master's Program in Health and Sport Sciences at the Tsukuba International Academy of Sports (TIAS) https://www.facebook.com/TIASofficial at University of Tsukuba. My research focused on the planning and periodization of swim training for junior swimmers aged 11-16 years. The research focused on identifying differences and similarities in junior training across different swimming club coaches in 26 countries and gave recommendations on the prerequisites of swim training that provide a competitive advantage.
As a swimming coach in Uganda who worked with junior swimmers, my goal has always been to pursue any opportunity that will develop and equip me with international experience of sports practices. The sport course in TIAS was designed as a research program that helped me to strategically think about sports challenges and recalibrate the ways of connecting and influencing athletic performance environment. It was the best choice.
Think about building your future - Japan provides a holistic understanding of the changing world. As you study, you will need to evaluate and assess the evolving market demands. Align your studies strategically with global sport activities.  Understand and explore the frame works needed to develop tools and implement techniques to gain exposure. Use this global exposure to market yourself.