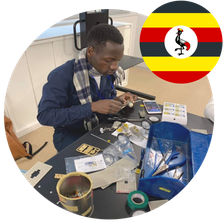 Mr. Yikii Walter
UGANDA
Undergraduate student
 Mechanical Engineering course
Tokai University
I am a second year Mechanical Engineering student at Tokai University. We were to have an internship machine design course, however, because of the corona Virus pandemic, classes changed to be online so we couldn't do practical designing courses. However, my file of interest is designing Agricultural Machinery. One of my university laboratories is for Agricultural robots, I am most likely going to join it. I dream to design customized machines that can agriculture in the rural villages of Africa. At the moment I am studying computer Aided Design (CAD), and the general classes such as material science, Industrial thermodynamics, Mathematics to mention but a few.
Japan has a very high reputation in engineering related things. As such finding companies in line with mechanical engineering would be easier. I am most interested to have my career path along engineering, more related to mechanical engineering. I am also interested in agriculture and leadership, as such I will keep utilizing opportunities related to that as well.
In Japan, leaning Japanese is very important. Most life situations including professional situations require Japanese. Working hard on Japanese language is very important. 
I have taken the pride to participate in speech contests. I was awarded by the Japanese minister of foreign Affairs after representing my Japanese Language school (Tokyo Nichigo Gakuin) in the Kanto region Japanese language school speech contests. I also was awarded a certificate of excellency following my presentation of my future dream (Kokorozashi) in the world Youth Kokorozashi presentation project in 2018. Besides, I have got chances of doing a six months agriculture project with a Japanese farmer where I learned manure making, tractor driving and I harvested 35kg of Irish potatoes. 
Japan is a very nice convenient country. Being in Japan has been such a big opportunity for me to explore and network. 
////////////////
He is one of successful recipients of Ashinaga Africa Initiative https://en.ashinaga.org/