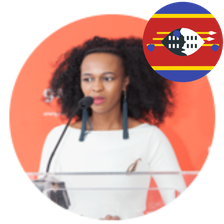 Ms. Treasure Mabena Lukhele
THE KINGDOM OF ESWATINI
MBA
Kyoto University
I acquired MBA in International Project Management at Kyoto University.
My research topic was "The Application of Game Theory for HIV prevention and Cost Benefit Analysis of Treatment as Prevention through Simulations in Swaziland". 
I am currently the Human Resources Manager of an Oil Company called Galp In my country The Kingdom of Eswatini. Our head Office is in Portugal.
Studying in Japan as a MEXT Scholarship recipient was the best experience in my life. I loved the culture and the politeness of the people in Japan. I was so amazed of the level of safety. In my case I moved to Kyoto with my 3 year old daughter so she used to be in her Hoikuen (Nursery school) from 7am to 7PM. The system is so supportive to foreign students. Being a mom did not affect my studies such that I got an award for best Thesis. 
For us it was like we were in vacation almost every school break because there are so many nice places to visit within Japan and especially in Kyoto where I was studying. 
My message to prospective students is Gambatte (work hard and never give up because you can do it) and also find a balance between school and life in general.