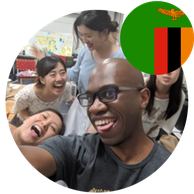 Mr. Nondo-Jacob Sikazwe
ZAMBIA
Master of Engineering
 Chiba University
Research: Informal Urban Services to Urban Data
I researched and designed a service that would help small market traders in Zambia to compete with the rise of shopping malls and foreign wholesale traders.Together with my knowledge from Japan, I collaborated with the traders to create a technology platform based on existing undocumented knowledge as well as the insights from customers. I prototyped the solution with traders and have been able to share the KPI and how we can create social innovation for the urban poor with new technologies.
As a High-school and bachelor student I wrote many papers on Japanese Architecture and Manga. My dream has be to an African ambassador and pioneer in my field in Japan. As a few Japanese people are aware of the social innovations and opportunities happening in Africa because of one side media shows. I was also interested .Having fall in love with Japanese people, my future path is to to develop cross collaboration between Southern Africa and Japan in the creative use of emerging technological driven services. That help both communities in Japan and back home.
Japan, like any other country is a place of many faces and places. Do not be afraid to interact with the community outside university even if you have low Japanese skills, explore both rural areas and big cities. These interactions will help you see a new side of Japan you don't see in books or television and a chance to meet interesting people that live in Japan. Also, don't only think of what Japan can do for you but what you can do for Japan, there are many opportunities  where you can use your culture and intelligence to collaborate, educate and share common ideas.