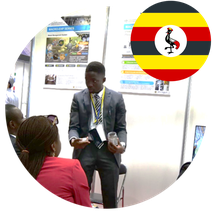 Mr Senoga Pius 
UGANDA
Bachelor of Arts in International Studies
Kwansei Gakuin University
As a graduate of international studies, I believe that my experience will further help me to connect Africa as a whole to Japan and create more job opportunities to reduce the rampant youth unemployment in Africa.
During my four years of university in Japan, my main focus was on understanding multiculturalism and the co-existence of people with different backgrounds. I took most of the classes in English and intensive Japanese language to remove barriers and produce multicultural communities where I could freely interact and share my unique culture with students from all over the world. This opened me to many doors of volunteering and interacting with the different minority groups of people, taking on different student leadership positions and organizing cultural events to break boundaries between the Japanese people and the general foreign community as well as understanding other various social issues within Japan and the world in general.
The main reason for choosing Japan was the desire to challenge and understand a completely different language and culture that is different from my own. Having been from a developing nation, I wanted to expand my knowledge in several areas of Japanese culture, and the fact that my study program comprised them all starting from Japan's society, traditional arts, and language, to its modern technology and the economy. Also, it didn't merely stop within Japan, but connected me to the different aspects of the Japanese culture and the rest of the world, hence, becoming a "global citizen". After graduating from one of the prestigious Universities in Japan, I was hired at J and W Trading Company. I currently focus on mutual business development between Japan and Africa.
Be ready to change and do not forget to be positive. Studying in Japan is fun because the community is welcoming and as a person from a unique background, it will give you the chance to explore your potentials if you're willing to change. The country is safe with a conducive learning environment and friendly professors. With the university support, I believe that you will be able to expand your interests and horizons, most importantly through practical experiences such as volunteering and part-time jobs, but also through seminars and inter-university events.
////////////////
He is one of successful recipients of Ashinaga Africa Initiative https://en.ashinaga.org/