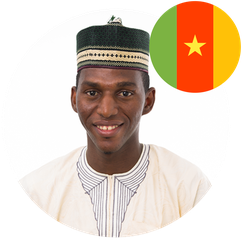 Mr. ABDOUN NASSIR
CAMEROON
Masters in Sport and Olympic Studies
 University of Tsukuba
Studying in Japan will give you the unique opportunity to meet the best lecturers from around the world. 
My study was broadly related to Sport Marketing, Sport Policy and Management, Olympic/Paralympic History and Education, Antidoping, Coaching and Physical Education. My research focused on Olympic Education in my home country highlighting the Cameroon National Olympic Academy (CNOA) practices and challenges. The findings contributed to improving the Olympic Education approaches and resources within the CNOA.
While holding my position as Head of Department for the Promotion of the Olympic Ideal and the 2020 Olympic Agenda in the Cameroon National Olympic and Sports Committee (CNOSC), I manage my duties as an Accreditation Officer for the Tokyo 2020 Olympic Games. My future career path is to be Top Sport Organisation Manager and Expert of Olympic Studies in Africa. 
Japanese universities are among the best in world rankings and have top level journals. Diversity and the high profile of students attending Japanese universities are valuable assets that will help you to build a very strong network with future leaders in their respective fields.