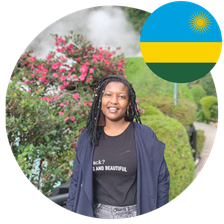 Ms. Celine Uwineza
RWANDA
Undergraduate student
Ritsumeikan Asia Pacific University
I am currently a 4th year student majoring in Environment and Development at Ritsumeikan Asia Pacific University (APU).
I come from Rwanda, one of the fastest developing country in Africa. However, not only for Rwanda but most countries around the world are taking the journey to "sustainable development" that does not harm the environment. Therefore, I decided to be part of this movement and chose my research topic under "System Design for Sustainable Society".
I chose to pursue my high education in Japan due to its high technology advancement especially in my field of sustainability but also the unique culture diversity experiences found in my university, APU, attracted me. APU is one of the top international Universities in Japan and is well known for its vibrant community that has a nearly same proportion of domestic students and International students that currently represent 92 countries/regions. In this environment, I have learnt a lot Inside and outside classroom and enjoy spending time with people from every corner of the world daily.
My dream is to start a social enterprise in Rwanda in the food processing industry to tackle unemployment issues but also the issues confronting the food industry.
Japan is a great country with so much experiences to offer especially to young people not only in the academic journey but also outside classroom. However, Japanese language is key, so be prepared to learn the new language and then you will have fun and gain a lot!
You can do it!
日本へようこそ!
Welcome to japan.