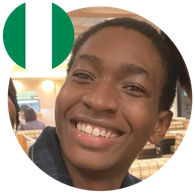 Mr. Temilolu Awofeso
NIGERIA
Undergraduate student
College of International Management 
Ritsumeikan Asia Pacific University
Currently, I am majoring in Business Administration, planning to specialize in Economics or Marketing.
I wanted to explore somewhere completely different and learn a new language, as well as more about other cultures. I also wanted to study somewhere that would allow me see the world differently, away from my comfort zone. One thing that I really love about Japan is the cuisine here. Even on a student budget, you can always get really good quality things to eat both in supermarkets and kombini like kiosk in Nigeria that are usually nearby.
Dear prospective students, learn Japanese if you really want to come here and to get the best of what life is like in Japan. You don't need to be fluent, but understand enough to hold down conversations. This helps a lot with making friends and getting around pretty easy.