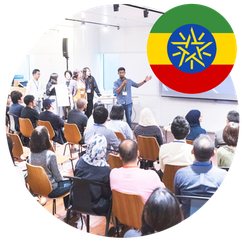 Mr. SISAY, Abebe Teferie
ETHIOPIA
Master's degree in International Relations
Graduate School of Asia-Pacific Studies
Waseda University
My research theme was "Determinates and Constraints of Community Participation in Solid Waste Management in Addis Ababa, Lessons from Kamikatsu Zero-Waste Town, Japan."  Studying international relations at Waseda University created the platform to meet with students from all over the world, and thrilled with the knowledge I accumulated from the experienced professors. 
Why Japan? Well, my background before the Master course was Civil and Environmental engineering. Japan is well known in advanced engineering fields and one of the few countries leading in sustainable development goals, mainly focused on environmental threats, like climate change and waste management. Fortunately, I lived here for two years before starting my Master course and explored more about my field of study. My two-year experience of living in Tokyo, the Japanese communities' dedication, and the history of fighting environmental pollution have contributed significant factors into my decision to study here. So far, I have combined my engineering knowledge with social science, one from different departments, and it laid the base rock for my Ph.D. studies in Environmental Engineering solely. I plan to study Ph.D. and become an instructor in Japan for some years and return to my country to share my experience and knowledge. 
Here is my message for my dearest Ethiopians. Japan is beyond technology and science destinations. It is a country occupied with everlasting history, a place filled with pride citizens of their own culture, language, and identity, a state which hates wastes and non to second when it comes to public service delivery. You will be amazed when it comes to time management, especially as Ethiopian. Here is my little advice. As I said, Japanese people are very proud of themselves, and they do things in the Japanese way. Dear prospective students, well come to the most hard-working society and work hard here, and it is how you are valued. Try to study the Japanese language by any means before you move, and there are many free language services after you come here. Enjoy your life here with their healthy foods and natural spring water. There is a lot to learn in Japan, which definitely changes your way of living, not just only earning a Master or Doctorate. Good Luck!!