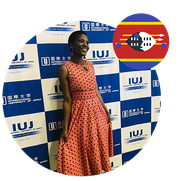 Ms. Zanele Phiri
THE KINGDOM OF ESWATINI
Masters Student
International University of Japan
Study & Research
I did a research report titled "Developing an entrepreneurial mindset in the agriculture sector: A case for ESwatini farm Owners.
Reasons to Choose Japan& Desired Future Career Path
I chose to study in Japan because I wanted to learn about Business and Innovation by Japanese Private firms. My main focus was innovation in the agriculture sector. Hence, I was able to do my internship in the agriculture sector. I was also introduced to social business concept through the Sunpower social business competition in our campus. I competed in that competition two times and my team was fortunate to win the 1st price in 2020 and again in 2021. Which brings me to my career path after graduation? I will establish a social Agribusiness unit called "Makwandze Organica" aimed at producing organic fruits and vegetable products and skills share to the youth in South Africa and Eswatini.
Message for Prospective Students
I encourage you to come to Japan, you will not only achieve your professional goals but you will discover your true passion. The beautiful scenery, friendly people and safe environment is very good for learning and making new friends.