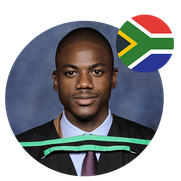 Mr. Emmanuel Nxumalo
SOUTH AFRICA
Exchange Student from University of Cape Town (BSc Eng in Electrical Engineering)
to
"Science and Technology in Japan" at Meiji University, 2016
Reasons to have chosen Japan for the exchange program
The programme offered the opportunity to learn, understand the Japanese industry and culture through combined phases:
1.      Japanese language and culture classes,
2.      Technical field lectures in electrical engineering, mechanical engineering, applied chemistry, and computer science,
3.      Field work by visiting several companies to observe manufacturing, research & development sites and the opportunity to engage with the workers/experts.
Message for Prospective Students
Throughout the programme I got the opportunity to learn about various aspects of science and technology in Japan in automobiles, electronics, chemical products, computer science, Japanese society, culture, and language.
The above aspects are beneficial to students from developing countries who are within or interested in electrical and manufacturing industries.
The programme enriched my studies, opened job opportunities and helped me throughout my engineering & manufacturing career in South Africa. Studying in Japan gave me my first international experience.