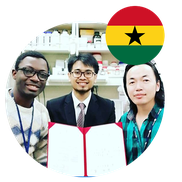 Study & Research
I am a PhD Student in Veterinary Sciences in the Research Unit for Molecular Diagnosis (OIE reference Lab) at the National Research Center for Protozoan Diseases (NRCPD), Obihiro University of Agriculture and Veterinary Medicine in Obihiro, Hokkaido.  My research focuses on developing highly sensitive and rapid diagnostic kits for piroplasma antigen detection.  
Reasons to Choose Japan & Desired Future Career Path
I had been to Japan for an exchange programme that lasted for a month, and having experienced the excellent academic environment, I developed a strong desire to come back for my doctoral programme. Japan is a very peaceful country, technologically advanced with good educational systems, and provides the best resources and facilities for effective learning and research. Therefore, I had no doubt this was the best and right academic environment for my research, and thus once the opportunity was presented, I gladly took advantage of it. I testify that my expectations have been met and exceeded!
It is my hope that after graduation, I will return to my country to share my experiences, the knowledge and skills acquired, through teaching and research.
Message for Prospective Students
To anyone who desires to study in Japan, pursue it! I deem it a unique opportunity, a worthwhile experience to study in Japan. I guarantee you the best resources and facilities that will give you a transformational experience, professional growth, good preparation for a lifetime of achievement.
To those who may consider the Japanese language a challenge, be encouraged. Most of the postgraduate programmes are taught in English. Support systems are in place (I guess in all universities) to offer support to new students to settle in and adapt quickly to their new environment. People here are very nice and polite and do their best to offer help, as you may need it.
If you seek for sponsorship, MEXT, JICA and many other scholarship opportunities are available. Take advantage of any, and you will never regret it. See you at the top! All the Best.