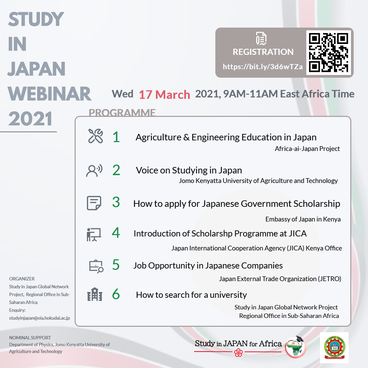 A webinar dedicated to Graduate studies in Engineering, Science, Agriculture and Technology is coming this March!
Any universities students in Kenya studying the field are welcome to join this webinar and consider their graduate studies in Japan.
Date     Wed 17 March 2021
Time     9am-11am EAT (GMT+3) Kenyan time
Venue   Zoom
Registration Link ←Click here!
Registration deadline 9 March 2021
Programme shown in the poster(left side)
Nominal Support by Department of Physics, Jomo Kenyatta University of Agriculture and Technology(JKUAT)