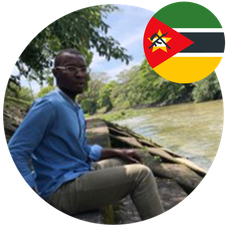 Mr. Celso Luís Fernando
MOZAMBIQUE
Ph.D. student
Traffic Engineering
Ehime University 
My studies are on road accident risk prevention. In my master's degree, I analyzed the effects of different road environments conditions on the road's accident occurrence. Specifically, I focused on porous asphalt pavement material. Now, in my Ph.D., I am using artificial intelligence (AI) to develop a real-time accident risk prediction model for a road network scale. The focus is on the selection of the best factor for prediction and interpretability purposes of the model output. 
I chose to study in Japan because of the relationships between Ehime University and Lurio University in Mozambique (my workplace). There is a Memorandum of Understanding (MOU) for the alliance. 
After my studies, I will work as a researcher. I want to implement a laboratory for urban traffic studies. I, strongly, believe that my work will contribute to reducing the number of road accidents, traffic congestion and other road incidents. 
Studying in Japan allows you to experience a different working culture. It is interesting to see how people are committed to their business. The ultimate goal of whatever they do is to make their life easy, this is my impression. For example, sensing technology, house building techniques, etc. 
Japan is, undoubtedly, a place where African youth who wish to work for a better home country should come and get experience.