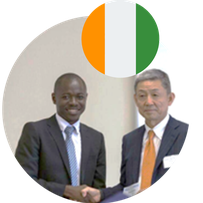 Mr. N'Dri Kan David
Côte d'Ivoire
M.A in International Development 
Graduate School of International Relations
 International University of Japan
I was in Japan from 2014 to 2016 for a Master degree in International Development. My research focused on the effect of international aid on poverty alleviation in the ECOWAS (Economic Community of West African States). The results from an econometric analysis showed that there is a positive and significant effect on international aid on human development index, however this is not the case with regards to economic growth. 
During these years, I also had several internship position in companies such as Toyota Tsusho corporation, Oriental consultants Global, Toyo etc.. 
Back in my country, I am now an Assistant Professor at the International University of Grand Bassam, since I completed a PhD in Economics a  year ago. I intend to have a career in academia and to be a consultant for national and international institutions. 
Japan  is a unique and wonderful place to study abroad. This has been a rich academic and human experience for me. You will definitely be positively impacted by the Japanese culture, melted with the sense of modernity strengthened by the amazing technology and innovation  level. I strongly recommend Japan to everybody, especially for higher studies.