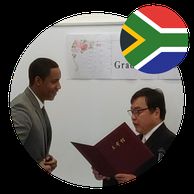 Mr. Jason Thabo Kornegay
(South Africa)
Masters in Economics,
Ritsumeikan University
I studied Economics in Japan and acquired Masters degree in Economic Development. I focused on financing determinants for businesses in South Africa. Looking to determine whether or not differences in access to financing for different race groups could be isolated as discrimination.
I have just come back to home country and currently am working independently on research in economics and trade, covering geo-economics, geopolitics, and macroeconomics. I intend on going back to Japan to finish my PhD and then start my own company providing economic research analysis for the SADC region.
My main piece of advice for the prospective students would be to completely commit to the cultural experience. Commit to learning the language and commit to making life long friends in a country of warm and welcoming people. And don't forget to work hard while your at it!