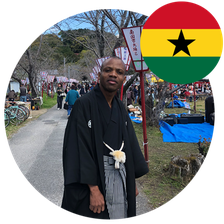 Mr.Ahiable Gabriel Mawuko
GHANA
Masters Course, Fish Genetics,
Graduate School of Integrated Arts and Sciences 
Kochi University
Research Area: Hybridization, inbreeding effects, genetic diversity and polymorphism of tilapia species from various populations in Ghana and Japan.
[Reasons to Choose Japan & Desired Future Career Path]
I have always dreamed to be a renowned academic.
Although Japan was initially not my destination of choice, working with my former Academic Supervisor, at the University of Ghana, changed it all. His impressive rapid academic and professional progress, coupled with industriousness and discipline, which he often attributed to his training in Japan, got me thinking strongly about Japan. Soon, Japan became my topmost desire, for a study destination, after I met other Japan-trained professors who were each outstanding in their respective areas of research. 
The Japanese culture of gross respect for humanity, irrespective of race, also offered an enchanting promise of a peaceful environment for studies. Today, I am excited I chose Japan.
[Message for Prospective Students]
As Ghanaian and African youths for that matter, above all personal pursuits should be the desire to develop ourselves to liberate Africa economically and holistically. To this end, every field of studies is very relevant. 
Japan presents a perfect example of a country that rose above grave disaster (in WWII) to glory as we see it today. Also, Japan perfectly mirrors how to relate progressively with global superpowers like the USA, for rapid development, without trading identity and culture. Japan exemplifies the necessity of value for money in all a people do. 
Furthermore, unlike some other destinations, Japanese universities are largely well-equipped and certificates from almost all Japanese universities are recognized globally. Despite the language challenge, for an ambitious student, the gains of studying in Japan are matchless. I think Japan is one of the best destinations for African youths seeking empowerment for our urgent comprehensive emancipation from poverty, diseases and conflicts, amongst other challenges we face.