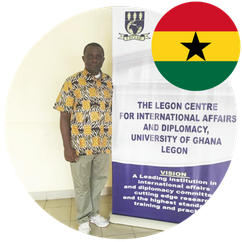 Mr. Henry Anderson
GHANA
Nihon Kogakuin College
[Study and Work Period]
I went to Japan to heighten my education and to study the rich culture of Japan. In Japan, I enrolled in the Fumon Japanese language school at Hiyoshi from 1988 to 1990 and attained a Diploma certificate in the Japanese language. From there, I was admitted at the Nippon Engineering College, Japan from 1990 to 1992. Through that I gained eloquence in the language and computer skills. My objective of visiting Japan was to study the rich culture of Japan and subscribe to the discipline and independent way of living. I knew there was no country to gain that experience but Japan.
[Career Path & Current Job]
Director of Good Shepherd Academy, Japanese Language Lecturer, University of Ghana
[Message for Prospective Student]
Japan is a country that provides the best resource for effective learning and researching. After so many years of living and studying in Japan, I couldn't let go of the knowledge, wisdom and rich culture I acquired in Japan so I introduced the Japan language to the school I head currently which paved the way for more opportunities for the language to be accredited in Ghana.
When I returned from Japan, I realized the dearth of Ghanaians wanting to study the Japanese language. But that did not put me to despair but my passion to let the Ghanaian know how important the language is, helped me introduced the culture and language with the least opportunity I get. This paid off and now I am currently the President of the Japanese Language Teachers Association of Ghana (GAJALT). I facilitate and moderate Japanese programs in Ghana. Today, the language is the most sought after in my country, Ghana.
This has built a strong relationship between the two nations in diverse causes especially in academics. I belief this will not only prove the education connection between the countries but also enhance various changes of doing things in this world of dynamic opportunities.
The beautiful sceneries in Japan, the ancient cities, delightful buildings and attractive environments which are very pleasing to the eyes means you will never be bored in the country and provides you with the touch of wanderlust.
My heart felt wishes to students interested in learning the Japanese language and studying of the rich culture of this ancient nation.