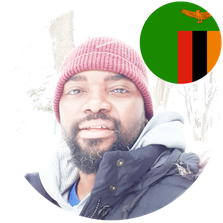 Mr. Esau ZULU
ZAMBIA
PhD student
 Graduate School of Information Science and Technology
Hokkaido University
Study & Research
Study : Electrical Energy and Power Systems Engineering
Research Focus : Optimization of Solar Power Integration in Distribution Networks
My research is mainly hinged on PV solar power optimization in the diverse and interesting field of Electrical/Renewable energy engineering. This study makes for a very important and necessary research because of the current global energy and climate situation.
As evidenced by the ever increasing threat of global warming due to climate change instigated and abated by human's continued use of fossil fuels to supply the daily energy demands, there is need to find adequate and sustainable alternatives to fossil fuels to reduce on carbon emissions. Solar energy has been adopted as a very good and viable alternative to fossil fuels for supplying electrical power. However, solar power is highly unpredictable and diurnal. Therefore, it is necessary to determine the appropriate sizes and placements of the Solar PV plants so that the maximum benefits of such installations can be extracted while keeping the cost at a minimum. This is where my research is highly centered.
Hokkaido University in Sapporo, Japan has offered an excellent laboratory to conduct this research. The Professors and the students in the laboratory are very helpful. All the equipment for such a challenging and emerging study are provided.
Reasons to Choose Japan & Desired Future Career Path
・Japan is very advanced technologically and one of the leading countries in engineering and Science
・Hokkaido Universities are ranked in the top tier in world university rankings for Innovation and technology
[Message for Prospective Students]
The general populace is friendly and are always willing to help where there is need. To study here has been an excellent choice for me and I would urge any student to consider applying here.
Be ambitious and challenge yourself to come and study at the world's best universities in Japan.